I planned this trip to Michigan's Upper Peninsula with a few goals in mind:
As much hiking as my boyfriend and puppy can tolerate!
A little less driving than our first trip to the UP.
Lots of waterfalls (we went to 8)!
I wanted to go swimming in a lake at least once.
Everything had to be dog-friendly, because we brought Waffles.
Day 1: Driving
We left our home in the evening to drive to the west side of Michigan and stay in a motel in a small town near Ludington.
Day 2: Ferry Ride, Canyon Falls
We drove to Ludington and boarded the S.S. Badger. It was a 4-hour ferry ride over to Manitowoc, Wisconsin. Waffles stayed in his crate in the car with the windows down in the cargo bay while Mark and I wandered around the ship. We hung out outside for a while and then retreated to the theatre room to watch some movies. Neither of us got sea-sick and Waffles didn't mind, so I consider it a win!
After the ferry landed, we began the drive up to the UP. Our first stop: Canyon Falls!
Canyon Falls
Trail Length: 1.8 miles roundtrip
I would rate the trail as between easy and moderate. The trail was well-maintained. The entire hike was just gorgeous! It was definitely worth the stop.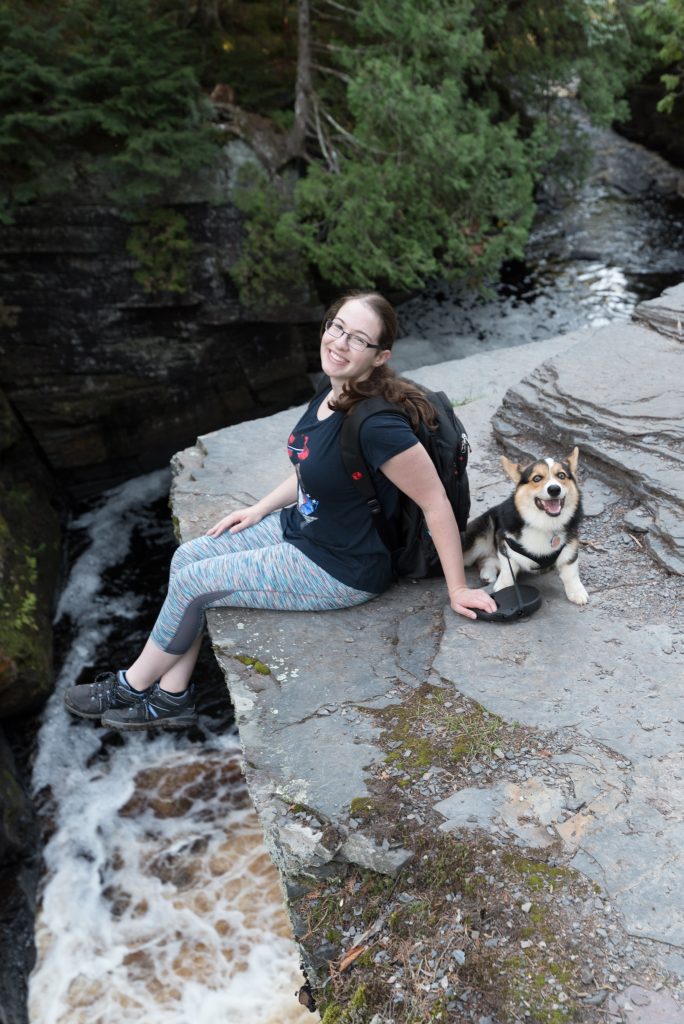 After we finished our hike at Canyon Falls, we drove up to Ontonagon and checked into our motel.
Day 3: Porcupine Mountains Wilderness Park – Lake of the Clouds, Summit Peak, Presque Isle Falls
Lake of the Clouds
Trail Length: Short. There is parking for Lake of the Clouds and then a short accessible walk to the overlook.
Oh, how I loved this scenic view! It was an incredible start to my favorite day the trip.
Summit Peak
Trail Length: 1 mile roundtrip
The elevation of Summit peak is 1958 ft, which is the highest point in the park. The trail is mostly steps.
Presque Isle Falls
Trail Length: Total length is 2.3 miles (one way), but pretty sure we hiked much less than that.
There is one more waterfall after Manido Falls (called Nawadaha Falls), but the area of the trail was closed off when we were there.
After the waterfalls, we headed back to our motel and decided to check out our private beach.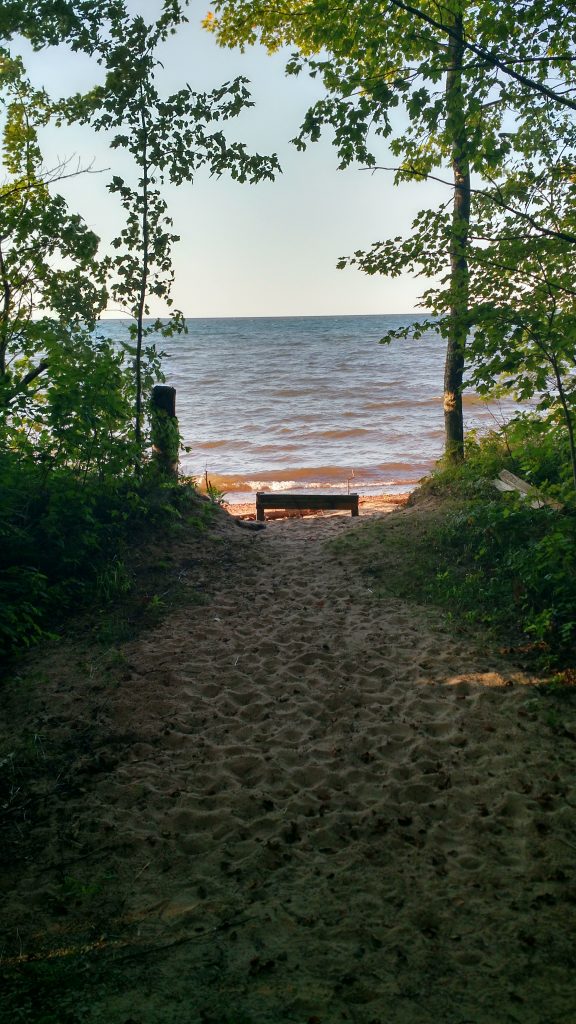 Waffles and I did sprints on the beach together, and then I went swimming in Lake Superior (the coldest Great Lake) in SEPTEMBER. It was surprisingly NOT cold! I was so overwhelmed with gratitude.
We finished off the evening by getting a pizza from Syl's Cafe and eating it by the motel campfire.
Day 4: Delaware Copper Mine, Montreal Falls, Eagle River Falls, Copper Harbor, Manganese Falls
Today was dedicated to the Keweenaw Peninsula. We drove up through Houghton and were headed to Copper Harbor when we saw a sign for a pet-friendly copper mine tour in Delaware, MI which turned into a spontaneous detour. It was pretty cool (and cold!) to explore a copper mine.
Delaware Copper Mine
The staff at the Delaware Mines even had a cute skunk named Oreo!
After the mine tour, we headed onto our original destination: Montreal Falls!
Montreal Falls.
Trail Length: 2 miles roundtrip to the Lower Falls
I would consider this trail to be moderate, because there are some rough parts of it where you need to climb over logs or walk right on the edge of a cliff. It is wide at some parts and very narrow at other parts. I LOVED this trail and really enjoyed navigating it. It was completely exhilarating, challenging, and endlessly changing.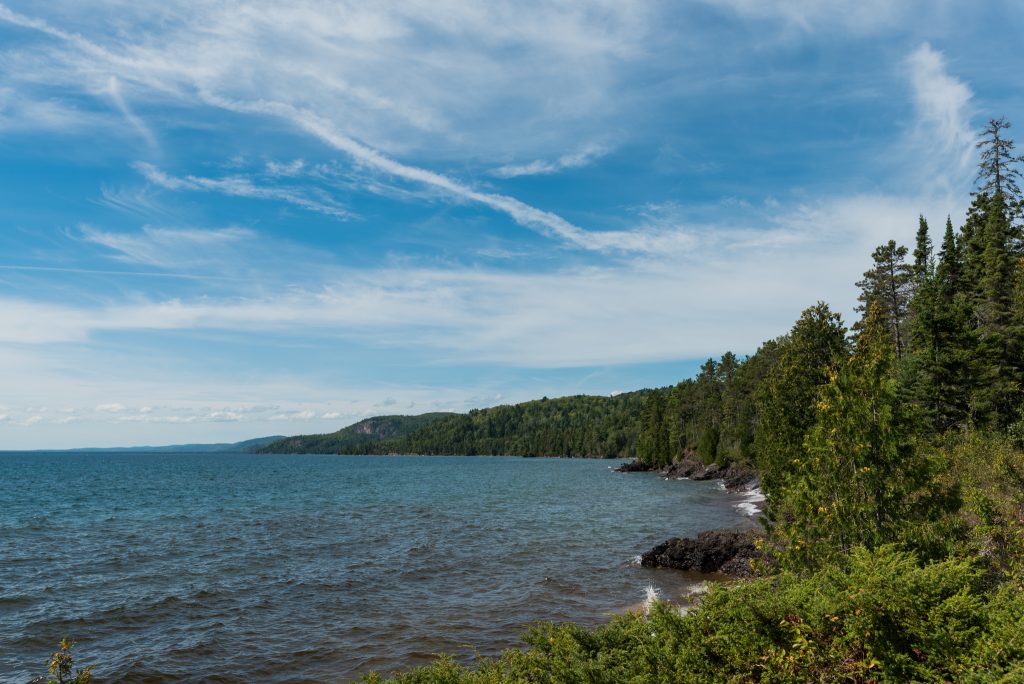 We hiked back and then drove to the Eagle River Falls.
We went to the Bear Belly Bar & Grill during our first UP trip and we decided to return. The food, service, and beer were fantastic. They let us eat on the patio with our puppy and it was so enjoyable!
Then, we spent some time in Copper Harbor. We walked around and had some beer at Brickside Brewery. We went to the last waterfall of the day and back to our motel.
Day 5: 
We checked out of our motel and started driving towards Manitowoc to catch the ferry back over Lake Michigan. On our way back, we stopped at the incredible Bond Falls–our favorite waterfall of the trip!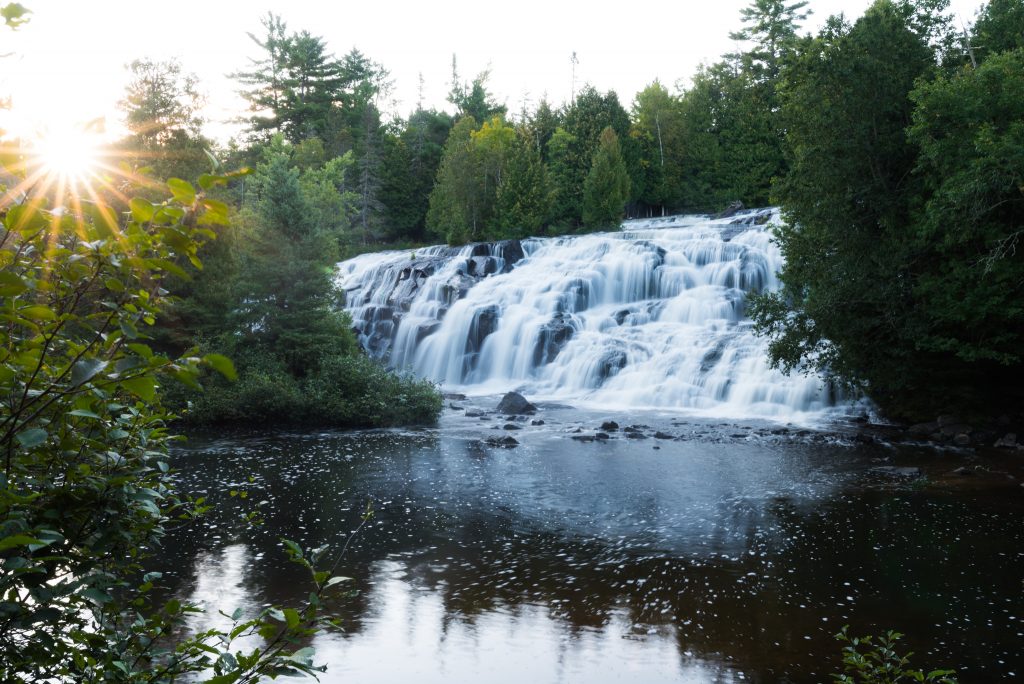 We made it back to Manitowoc, boarded the ferry, and spent the 4-hour ferry ride watching movies again. That evening, we spent some time wandering around in Grand Haven. The next day, we spent some time in Holland before driving home.
Additional Information:
Food: I packed a cooler full of snacks and drinks: water, chia seed drinks, lemonade tea, sodas for the BF, protein bars, jerky, bananas, peaches, and nectarines. Because there are not many options in Ontonagon, we ate at Syl's Cafe or got carryout from there quite frequently!
Motel Information: We stayed in 3 different motels on this trip, but the only motel worth mentioning is Sunshine Motel & Cabins. We stayed here for 3 nights and absolutely LOVED it! The room was so cozy and the bed was comfortable. The prices are excellent and the owners are very friendly. The area outside the motel has a firepit with chairs, a few tables and chairs, and a swing. The whole place is pet-friendly, AND you have access to a private beach across the street! We will be returning to this motel on our next trip to Ontonagon.
What We'll Do the Same Next Time: All in all, I would return to (and recommend) every place I mentioned (aside from the Manganese Falls, because they were not easily accessible and not overly amazing).
What We'll Do Differently Next Time:
Pack more snacks, and even some vegetables (oops!)
Extend the trip and spend a few more days exploring the Porcupine Mountains, because I would love to hike some of the longer trails.
Try taking the ferry overnight to get a little bit of a discount on it.