Wildly Inspired by Wookiefoot
I need to share my love for this band called Wookiefoot, whose music inspires me to laugh, sing, dance, and create!
Here's the thing: Wookiefoot has INSPIRED me. Inspired inspired. Like the life-altering, cell-shifting, re-aligning kind of inspiration that you can't quite describe.
Maybe it's just me, but I'm willing to bet there are lots of other people who might love their music like I do… hence this blog post dedicated to them. The world has to know!
You're probably like, "Why is this girl obsessed with this band?" And I could go on and on about the comedy! The artistry! The way their songs align with my heart, soul, & values somehow in this really fun, random, exciting, joyful way. It's so freeing!
ANYWAY! Enough talk, how about listening to some of their songs? Let's go down the Wookiefoot rabbit hole. Below, I'm going to share some of my favorite songs and lyrics.
So, I discovered Wookiefoot in May 2022. The song that drew me in was "You're It!" One day, it appeared in my Spotify daily mix and I was instantly hooked.
This song takes you on such a beautiful journey. It invokes big emotions in me each time I listen to it. There are a couple parts that tend to invite joyful tears out of me.
By the end of the song, I can't help but to have a suuuper big smile on my face.
My favorite lyrics in this song:
Sometimes you'll find yourself adrift, and sometimes you'll be adrift and find yourself. —"You're It!" by Wookiefoot
This song gives me sing-songy Irish vibes and I love it. The lyrics are so powerful, I could list all of them here. (That tends to be how I feel about most of these songs!)
We may not have it all together, but together we can have it all. —"All Together" by Wookiefoot
How inspiring is that? Like, you know… remembering that we don't have to have it all together. We don't have to do it all by ourselves. We support each other.
The purpose of this life is to live a life with purpose, so don't get trapped inside your safety net. So fill you well and light your flame, but go on seeking service; life with out a cause is life with out effect. —"All Together" by Wookiefoot
I found myself trapped inside my safety net for so many years, living by rules I created for myself. I love that message so much. (Of course, I did name my blog Strong with Purpose.)
This song helps me re-center and bring my focus back to the present moment. These lyrics are so important:
Worry will not take away your trouble tomorrow; only take away your peace today. Worry will not take away your pain, your sorrow; bring it back to the breath and it can all melt away. —"Don't Hold Your Breath" by Wookiefoot
This song is absolutely beautiful in all the ways.
To find your heart you've got to lose your mind. —"Lose Your Mind" by Wookiefoot
Mmm, yes. And when we move from the mind to the heart, we find our truth.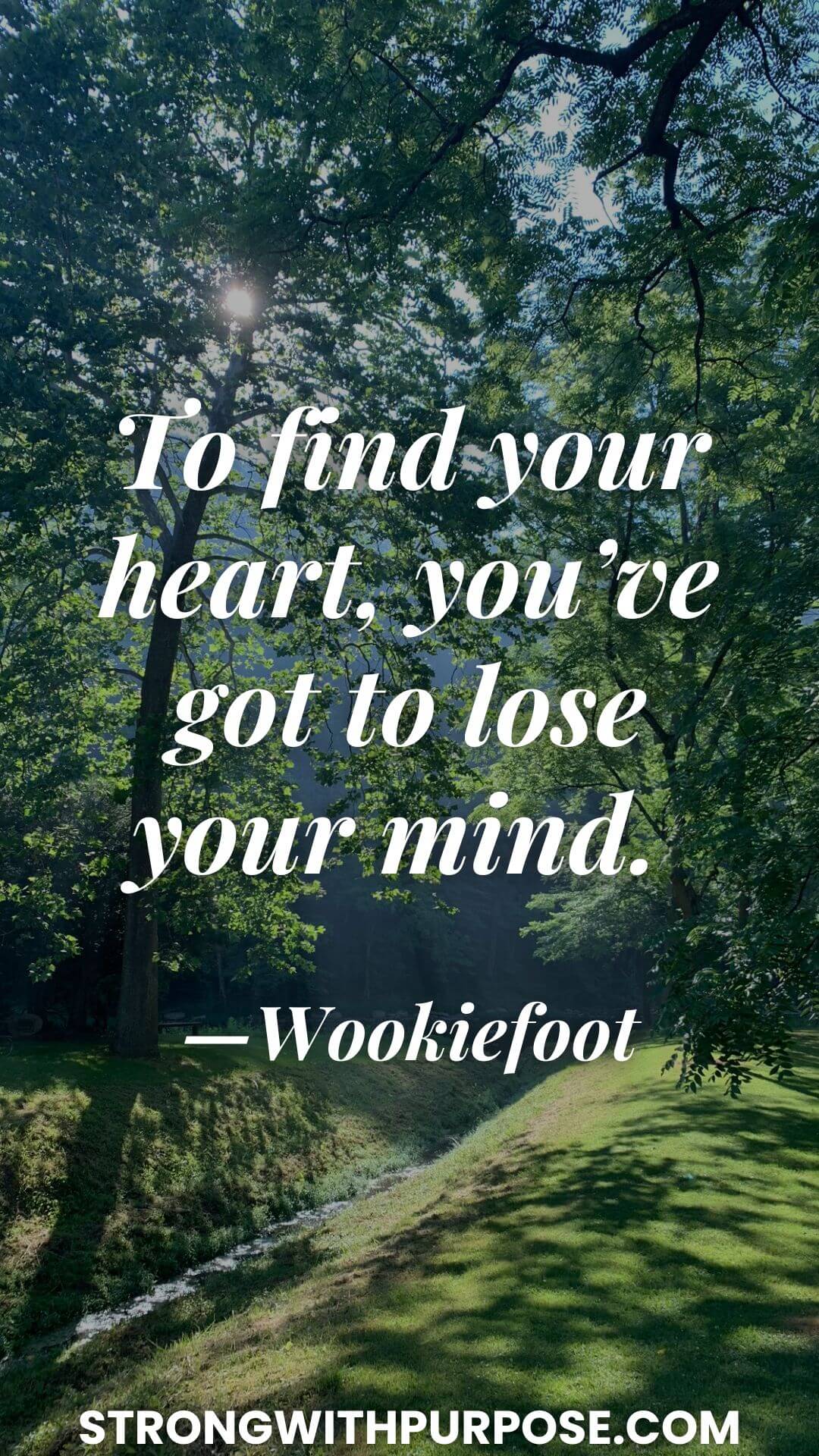 I hope you've enjoyed listening to Wookiefoot with me! Here are some more songs to check out:
Fun songs that make me laugh & smile a lot: Brainwash, Junk Food
Some of my other favorites: Don Quixote, Be Fearless and Play, In the Ground, Just Visiting, Shangri-La
Songs I find the most impactful: The Road, Writing on the Wall, Small but Fierce, The Eighth Fire
What's your favorite song of theirs? Let me know!