How to Choose Healthy Personal Care Products
Why Does It Matter?
We are faced with innumerable choices in our daily lives. We put forth varying degrees of effort into these choices. When we spend more willpower on one decision, we often lack the degree of patience to fully evaluate other decisions we make. It's pretty normal, because this stuff can be overwhelming when you put it all together. That is why I'm trying to share simple, easy, actionable information with you!
When we run out of shampoo, we go to the nearest store, stare at shelves covered from ceiling to floor with products, and make a decision as quickly as possible. We don't know what to look for, so we guess. We try to make the best choices we can, we just get what we can afford, or what is most familiar to us. We make a quick decision and move on with our lives.
It takes more effort to weigh our options by reading the ingredients on the bottle and considering the cost, true value, availability, and satisfaction factor. But once you know what to look for, the process is easier. You'll have new favorite healthy products!
When it comes to our personal care products, it's often not a one-time use that causes us a dramatic negative effect. Rather, we're exposed to low amounts of toxicity chronically over months, years, and decades.
We don't know everything, and we can't know everything… but we can make informed decisions based on what information is available.
We do know that we're in the midst of a chronic illness epidemic. We know that when our bodies are exposed to toxic ingredients, those may end up residing in our brains, guts, and other parts of our bodies. We know that by consuming mainstream products available in all pharmacies and convenience stores, we are being exposed to a plethora of toxic ingredients. We know that there are many stores that do not have any natural personal care products available, and it is common for these products to be limited in choice and steep in cost.
It is common, but it is not normal, and it is not okay.
We all deserve to know what is in our personal care products.
We all deserve affordable access to healthy products.
What is a Personal Care Product?
Personal care products are items that we use on our bodies for hygiene, function, and/or beauty. Here is a long list of example personal care products.
Hair:
Shampoo
Conditioner
Hair styling mousse/foam
Hair styling gel/lotion
Hair treatment/serum
Hair color and bleaching
Detangler
Hair spray
Hair relaxer
Hair removal waxes
Hair loss treatment
Shaving cream
After shave
Beard oil
Beard cleanser
Skin:
Body wash/cleanser
Hand soap
Bar soap
Baby soap
Facial cleanser
Exfoliant/scrub
Bubble bath
Bath oil/salts/soak
Body oil
Moisturizer
Antiperspirant/deodorant
Fragrance
Oral Care:
Toothpaste
Tooth whitening
Mouthwash
Sun:
Sunscreen
Moisturizer with SPF
Makeup with SPF
Lip balm with SPF
Sunless tanning
After sun product
Makeup:
Bronzer/highlighter
Concealer
Facial powder
Foundation
Makeup primer
Makeup remover
Brow liner
Eye liner
Eye shadow
Mascara
Eyelash glue
Lip balm
Lip gloss
Lip liner
Lip plumper
Lipstick
Body art
Glitter
Nails:
Nail glue
Nail polish
Polish remover
Cuticle treatment
Nail treatment
Baby:
Baby bubble bath
Baby lotion
Baby oil
Baby powder
Baby shampoo
Baby soap
Baby toothpaste
Baby wipes
Diaper cream
Setting the Standard
My personal standards for the products I choose to purchase and use include as many of these as possible:
Organic ingredients – Read this post to learn about the importance of "organic". These ingredients are usually identified with an asterisk, indicating *Organic Ingredient at the bottom of the ingredient list, or they may be spelled out simply as "Organic Coconut Oil," for example.
Fair Trade ingredients – Shopping Fair Trade is better for the world as a whole. According to Fair Trade Certified, fair trade indicates "it was made according to rigorous social, environmental, and economic standards. We work closely on the ground with producers and certify transactions between companies and their suppliers to ensure that the people making Fair Trade Certified goods work in safe conditions, protect the environment, build sustainable livelihoods, and earn additional money to empower and uplift their communities."
Plant-based ingredients – Ingredients that are derived from plants. This indicates these ingredients were not synthetically created in a lab, but were derived completely from natural sources.
Cruelty-free – The Leaping Bunny program approves products as being cruelty-free. This indicates that these products were not tested on animals.
Eco-friendly – Made with reusable packaging, biodegradable packaging or recyclable packaging.
Products from a small, local business – Do you have a local farmer's market? Check it out to see if you can find any products that are made healthily. It's great to support small, local businesses, but you still have to be discerning with finding out which ingredients are in their products!
DIY – If you have the desire, you can dabble in making your own DIY personal care products! There are many recipes available online.
Navigating Ingredient Labels
1. Do a quick check of the label and use your intuition
Look at the ingredient label. The ingredients towards the top of the list have the highest concentration in the product, and the ingredients towards the end of the list have a lower concentration.
Check in with your natural intuition. Where is your eye naturally drawn to first? What do you notice? What are your first thoughts? How does it make you feel? What do you suspect, just looking at the list of ingredients, without doing any research? Which ones are you most concerned about? Which ones sound the healthiest? Are there any certified labels you notice?
This is really a process of improving our ability to observe and make quick decisions based on what we find.
2. Look for red flags & green flags
Keep reading for examples of red flags and green flags on ingredient labels.
How did you do in the intuition exercise? Look up a specific product or ingredient and see how the data matches up against your intuitive knowing about it.
The EWG ranks ingredients based on a 10-point scale. 1-2 is the best (Green), 3-6 is moderate (Orange), and 7-10 is the worst (Red).
"Red Flag" Examples
Here are examples of specific ingredients that I would NOT want in my personal care products, organized by severity:
Human endocrine disruptor – strong evidence.
Causes skin allergies in people.
Studies show significant wildlife and the environment disruption.
Fragrance (parfum) – Rated Red (8 / 10)
Ingredient is not fully labeled – identity unknown. Companies are not required to disclose what is included as "fragrance"!
Known human immune system toxicant or allergen.
Fragrance in cosmetics causes allergic contact dermatitis.
Fragrance causes skin allergies in children.
Fragrance causes respiratory irritation in people.
Fragrance exacerbates asthma.
This substance has high acute toxicity to aquatic life.
Oxybenzone increases absorption of 2,4D (a pesticide) by 36.4% and decreased lag time by 15.9%.
Allergenic reaction when combined with sun exposure.
Human endocrine disruptor – moderate evidence.
Limited evidence of wildlife and the environment disruption.
Oxybenzone can trigger outbreaks of viral infection in coral reefs.
Methylisothiazolinone – Rated Red (7 / 10)
In-vitro study demonstrates this common biocide is highly toxic to neurons in the brain.
Strong evidence as a human skin toxicant or allergen.
Skin sensitizer – can instigate immune system response that can include itching, burning, scaling, hives, and blistering of skin.
US EPA reports it is very toxic to aquatic life.
Banned or restricted use in multiple countries.
Suspected of damaging fertility or the unborn child.
Persistent or bioaccumulative and moderate to high toxicity concern in humans.
Butylphenylmethylpropional (Lilial) demonstrated estrogenic activity by increasing the proliferation of breast cancer cells in vitro.
Possible human immune system toxicant or allergen.
Methylchloroisothiazolinone – Rated Orange (5 / 10)
It is mutagenic, which means inducing or capable of inducing genetic mutation.
Strong evidence as a human skin toxicant or allergen.
US EPA reports it is very toxic to aquatic life.
Banned or restricted use in multiple countries.
Cocamidopropyl betaine – Rated Orange (1-6 / 10 depending on usage)
May cause sensitization by skin contact
Suspected to be an environmental toxin
Propylene Glycol – Rated Orange (3 / 10)
Found to provoke allergic reactions in patients with eczema and other skin allergies.
Classified as a skin irritant.
Classified as expected to be toxic or harmful.
Enhances skin absorption / penetration, which can increase the effect of other toxic ingredients.
Sodium hydroxide – Rated Orange (1-4 / 10 depending on usage)
Recommended to avoid or minimize skin exposure
Expected to be toxic or harmful
Medium human health priority
Restricted use
Occupational hazards related to handling
Laureth-4 – Rated Orange (1-3 / 10 depending on usage)
Strong evidence as an irritant to human skin, eyes, lungs
EDTA – Rated Green (2 / 10)
Enhances skin absorption / penetration, which can increase the effect of other toxic ingredients.
Classified as an irritant to human skin, eyes, lungs
Classified as expected to be toxic or harmful
Classified as medium human health priority
These are just a few examples. There are thousands of harmful ingredients in personal care products. When in doubt, search EWG's Skin Deep® database. Search for the product name, and if it doesn't come up, search for individual ingredients.
"Green Flag" Examples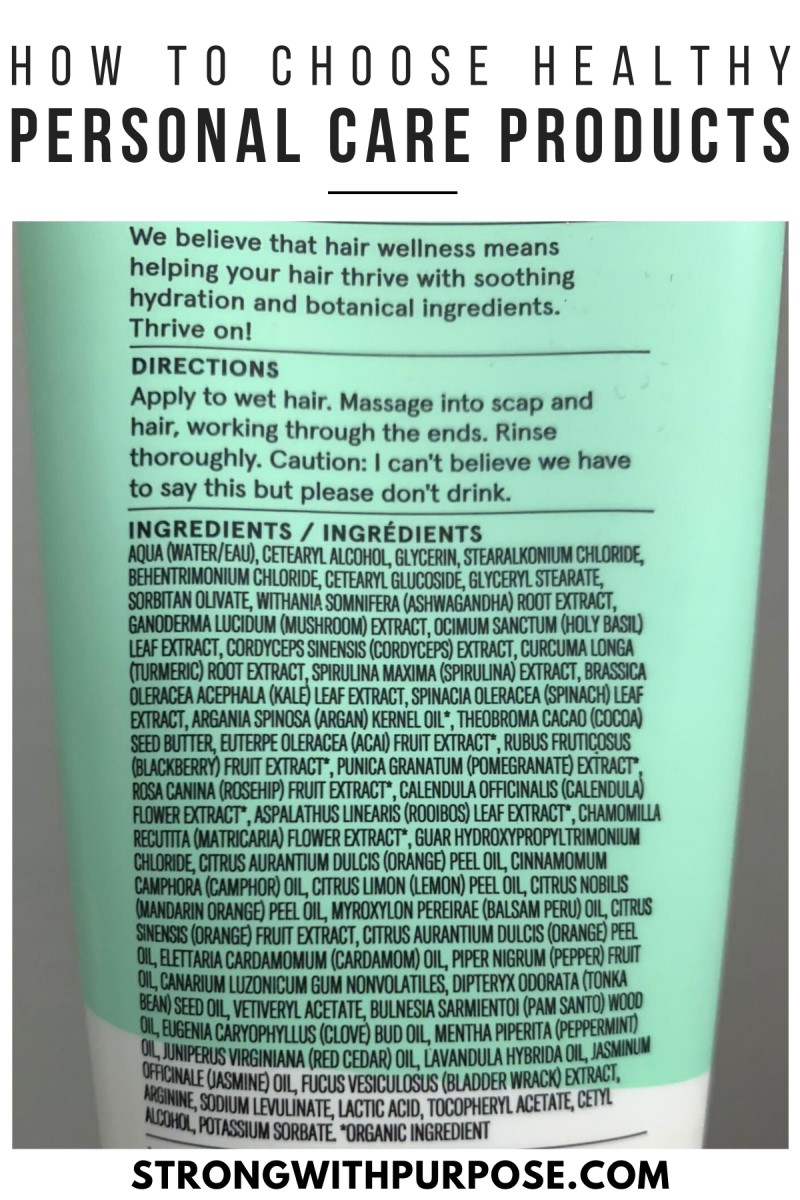 This is a long list of ingredients, right?! This is a good example to show that not all long ingredient lists are "red flags." This product has a long list of mostly organic, plant-based ingredients. The label lists the plant's full name along with its common name, so that's why it's way longer.
However, there are still some questionable ingredients:
Stearalkonium chloride – Rated Orange (5 / 10)
Human immune and respiratory toxicant or allergen – strong evidence.
Asthmagen sensitizer.
Reproductive toxicity in animals.
Suspected to be an environmental toxin.
Behentrimonium chloride – Rated Orange (4 / 10)
Asthmagen sensitizer.
Reproductive toxicity in animals.
Suspected to be an environmental toxin.
Tocopheryl acetate – Rated Orange (2-3 / 10 depending on usage)
Human skin toxicant or allergen – strong evidence
Suspected to be an environmental toxin and be persistent or bioaccumulative (uncertainty in environmental toxicity or persistence/bioaccumulation)
EWG rates this product overall as Orange (3 / 10). I would say it's a pretty good product considering that it doesn't have a long list of orange/red priority ingredients. I love the way it makes my hair feel and it smells amazing. However, after examining each ingredient, I was inspired to contact the company to see if they would consider replacing those ingredients with less harmful ones.
This is an example of a short list of nearly all organic and fair trade ingredients. Potassium hydroxide is Rated Orange (5 / 10), but the label states that none remains after saponifying the oils into soap and glycerin. Tocopherol, unlike tocopherol acetate that was in the previous product, is Rated Green (1 / 10). So, I would say this product is extremely healthy to use. For that reason, I feel comfortable linking to Dr. Bronner's personal care products. 
Assessing All Your Products
So, you understand what makes a product healthy vs. not healthy. Now what?
First of all, don't beat yourself up about it! Be kind, gentle, and patient with yourself as you begin to choose healthier personal care products.
This is a big deal. You are claiming your right to good health. You are choosing a higher standard. Pat yourself on the back for taking the first step: reading this post!
I would recommend returning to the personal care product list at the beginning of this post. Use it as a starting point to closely examine some of the products you use on a daily basis.
You don't have to overwhelm yourself. You are allowed to take it one product at a time. You don't have to get rid of all unhealthy products at once. 
Take it one small step at a time. Every step adds up and multiplies in time!
—
There are no "perfect" products. When we look closely at the ingredients, I'm sure we'll always be able to find a thing or two that could be improved upon. Our intention is to be well-informed so that we can make the best choices about what we are using on our bodies.
I hope this post inspired you to look more closely at the personal care products you use day-to-day so that you may begin to make healthier decisions!
If you found this information useful, please share this post with someone you care about!